There are 2 storage facilities in Colorado Springs, Colorado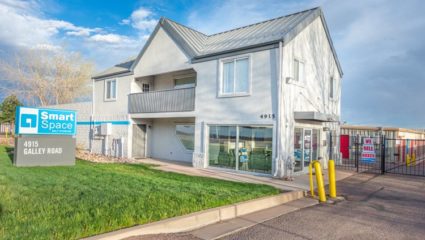 Smart Space Self Storage - Storage Units in Colorado Springs
4915 Galley Rd,
Colorado Springs, CO 80915
(719) 573-6600
Available Units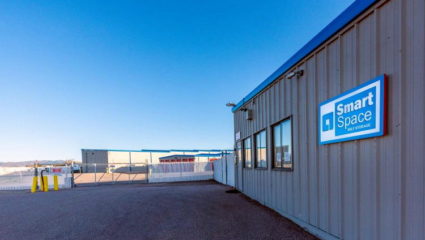 Smart Space Self Storage - Stetson Hills
5210 Tamlin Rd.,
Colorado Springs, CO 80938
(719) 574-3400
Available Units
Self Storage in Colorado Springs, CO – Smart Space Self Storage
Need an affordable storage unit in Colorado Springs? Choose Smart Space Self Storage. In addition to clean, modern storage units, our area facilities offer convenient storage solutions for our neighbors. Whether you're stationed at Peterson Air Force Base and need to store extra household items or you own a business in East Colorado Springs, we can help. Our facilities are conveniently located within driving distance of several area neighborhoods and cities, including:
Cimarron Hills
East Colorado Springs
Elsmere
Briargate
Knob Hill
Falcon
Our East Colorado Springs Storage Facilities
With two storage facilities located just a short distance from Highway 21 in East Colorado Springs, Smart Space Self Storage provides plenty of storage options to meet your needs.
In addition to units ranging from 5×5 spaces to extra-large units with warehouse capabilities for businesses, we provide drive-up units for ease of access. All units at these facilities can be found on the ground floor, which makes loading and unloading your storage space as easy as it gets.
Climate-Controlled Storage Units in East Colorado Springs
Climate-controlled storage is vital for keeping your stored items protected from bitter winter cold and extreme heat. With climate-controlled storage, your wooden furniture, photographs, electronics, and documents are protected from warping or damage due changes in temperature and humidity. Many of the units in our Colorado Springs storage facilities are equipped with climate control and will protect these items for the length of time they're stored.
East Colorado Springs RV and Boat Storage
If you need to store your RV, boat, or other vehicle, both Smart Space Self Storage facilities in Colorado Springs offer plenty of spaces. Our parking units are perfect for stowing your RV during the off-season. Combine it with a drive-up storage unit and keep all your outdoor recreation equipment in one space that's just minutes away.
Find Your Colorado Springs Storage Unit Today
Whether you're in Briarcliffe, Cimarron Hills, or East Colorado Springs, renting a self storage unit has never been easier, thanks to the convenience of Smart Space Self Storage. Visit our Tamlin Road or Galley Road facilities for more information or reserve* or rent your storage unit online.
* Reserved units will be held for a maximum of 7 days. Promotions are subject to availability and limited to new customers only – space transfers and additional rentals excluded. Other restrictions, taxes, fees and insurance requirements may apply. All unit sizes are approximate. Contact store manager for more information.
Colorado Storage Facilities in A City Near You
Colorado Springs Storage Units
Storage Facilities in Littleton, CO
Lakewood, CO Storage Units
Storage Types in Colorado Springs
Self Storage Resources