Preparing Your Permanent Home Office
Sometimes the right office setup can make or break your work from home experience. We'll show you how to prepare a place and maximize your productivity.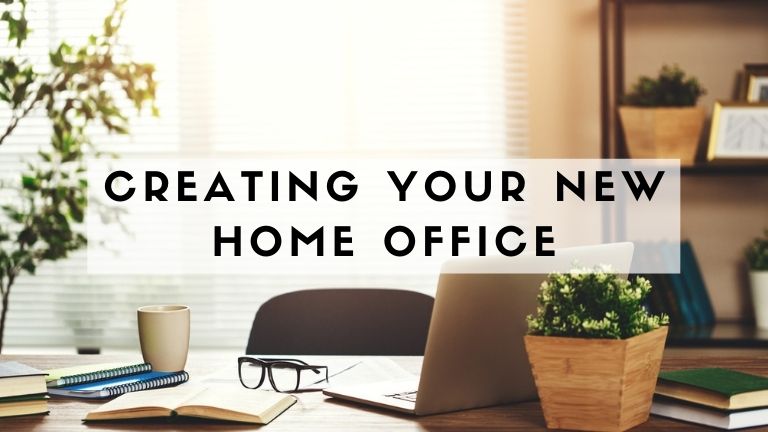 For many people with clerical or office jobs, the prospect of working from home might look pretty appealing. It's also proven necessary during the COVID-19 pandemic. Safety concerns aside, being able to focus on your work without distractions has been proven to maximize productivity—sometimes increasing the amount of work done by up to 25%. There are plenty of other benefits to working from home, too. Whether you're looking for a way to decrease your commute or save money by not eating lunches out, doing your job from home can offer a refreshing change of scenery.
The best way to effectively work from home is to create a space that's not just conducive to productivity, but one that you actually enjoy spending time in. If recent events have caused you to transition to a remote work environment, it's worth taking some time to consider how best to create a space that will work for you—even if it means using self storage to help convert a room into your home from a bedroom or other type of space into an office.
At Advantage Self Storage, we love helping people reclaim space in their homes for all sorts of reasons, including creating a dedicated room for work. Let's look at the absolute necessities that you will want to think about when it comes to working remotely.
Picking the Right Space
In much the same way that companies consider real estate, you'll need to objectively look at the areas of your home. Your living room is comfortable for hours at a time while marathoning shows on Netflix, but it won't work for regular tasks. Taking early morning conference calls from bed may seem like a great idea now, but do you really want to associate your sleeping space with rough client interactions?
Create a Dedicated "Work Zone"
Between the hours of 8 to 5 (or whenever your start and end time is), your office space should be just that: an office. If you plan on working from your kitchen table, find a different part of the house or apartment to eat lunch in. Avoid the temptation to cozy up on the couch with your laptop. The idea here is to create a dedicated area in which you can truly get into that working mindset. A space that's free of distractions will increase your productivity. Whether that means you clear out an entire room in your home for work or carve out a corner of your dining room is up to you.
Natural Light is Good for Working
Many people choose to sequester themselves in basement dens or offices, but studies show that natural light is good and healthy for productivity. If you're able, use a room or space in your home that allows for great natural light. It won't just help your mood, either. Working in an area with good lighting will help you look better on conference calls, too.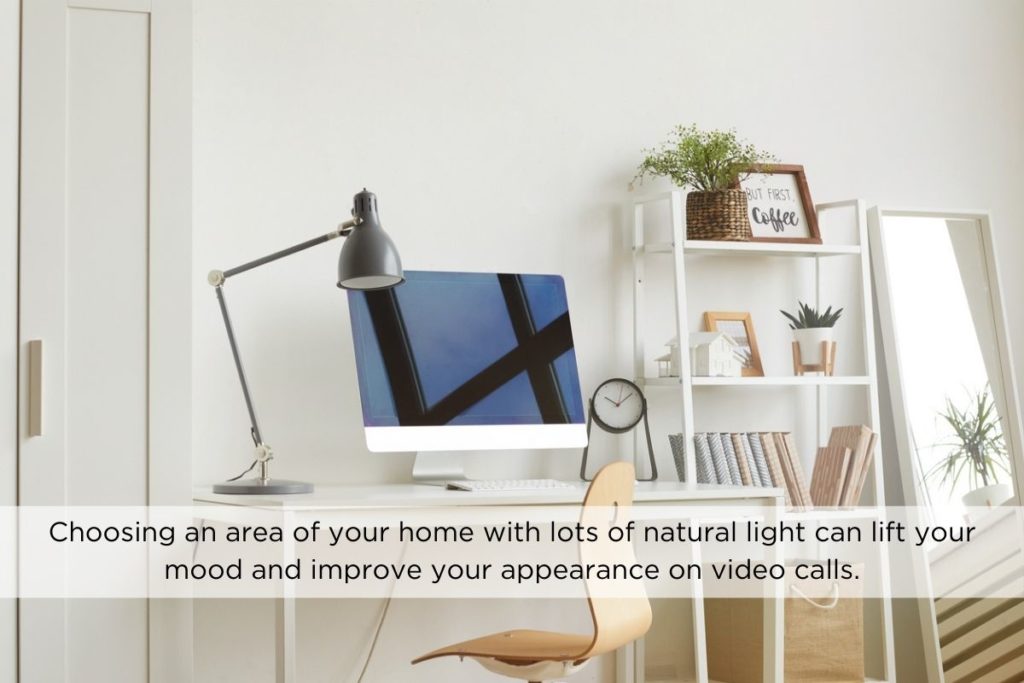 Clear Enough Space for Work
Make sure you give yourself ample room to do your job. It may be tempting to take up the least amount of desk or table space possible, but if your work requires you to balance working on a computer with taking physical notes, a tiny lap desk may not suffice. Likewise, you don't want to work in a cluttered space surrounded by junk. Pack up the contents of a spare bedroom and place them in a storage unit, especially if circumstances dictate that you not have regular visitors, anyway.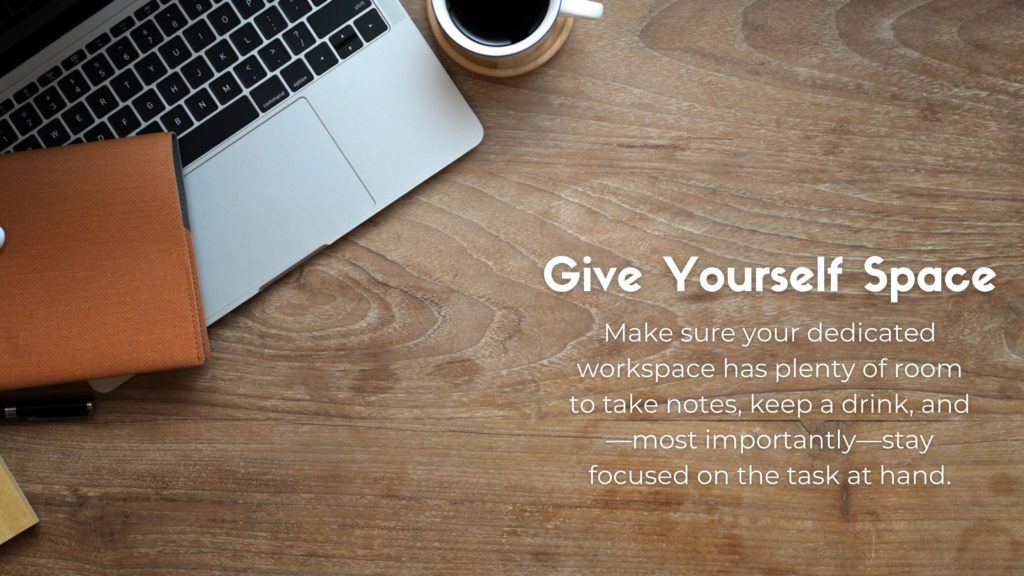 Invest in the Right Equipment
As much as we hate to admit it, spending money to help furnish a great remote work space is probably one of the best pieces of advice we have. If your remote work lifestyle is set to continue well into the future—even permanently—using your kitchen table may not cut it. You'll probably want to look into the following items for prolonged periods of remote work:
A Sturdy Desk with Lots of Storage
Pick out a comfortable desk that offers plenty of room and lots of storage opportunities. It should have space for your computer, an external mouse and keyboard, and potentially even a secondary screen. To really maximize space, purchase a gas spring monitor arm to suspend your monitor over the desk. If you need to regularly move or stand, consider splurging on a desk that allows you to transition from sitting to standing.
A Comfortable Chair
Even though sitting for prolonged periods of time isn't great for our bodies, you'll spend a lot of time in your desk chair. Don't buy one based solely on price. Take time to sample a variety of chairs and determine what you need for regular comfort. Some workers thrive in charms with arms, while others only need a stool. Comfort is generally subjective, but the right amount of back support and cushion makes a big difference.
Headphones and Other Peripherals
We've already mentioned a monitor, mouse, and keyboard, but the right accessories are vital for keeping you going. Quality headphones can help you avoid distractions and keep your voice from echoing for other conference call participants. Using wireless headphones with a built-in microphone will allow you to move around a little bit on voice-only calls.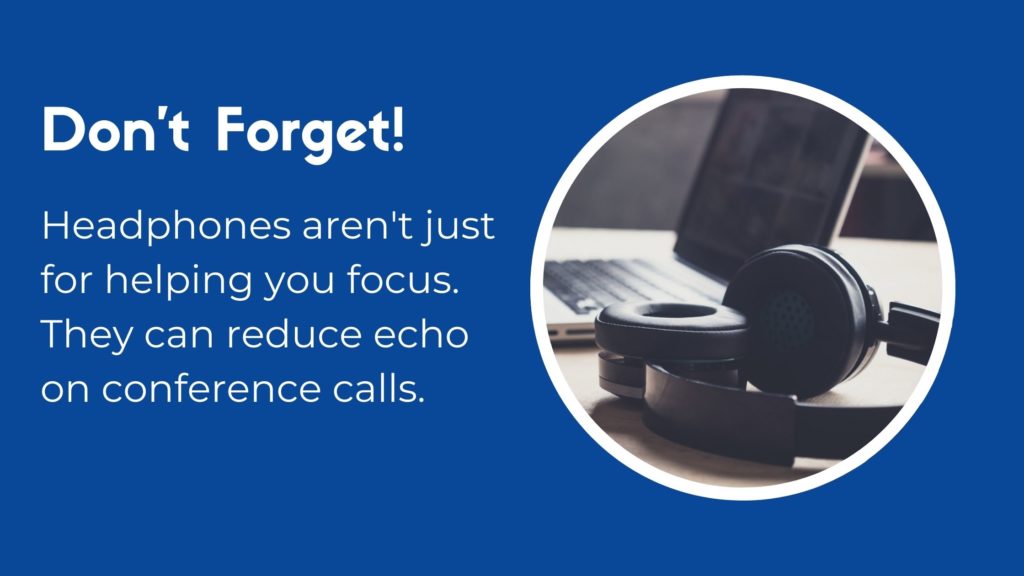 If your internet connection is unreliable, a hardware bottleneck may be the issue. Mesh WiFi systems are more affordable than ever before and can help blanket your whole home with stable, steady wireless internet connections. If you're able to hardwire into your router with ethernet cable, you'll enjoy an even faster connection.
As you finalize setting up your desk, don't forget about the most basic of items: notebooks, sticky notes, and pens and pencils.
Rent a Storage Unit for Your Unneeded Items
Maybe you're an empty nester whose office space is a reclaimed bedroom, or you've chosen a part of the house that was previously occupied by exercise equipment. In either case, temporarily relocating the contents of those rooms makes a lot more sense than getting rid of them completely. Not sure of where to place them in the interim? A storage unit at Advantage Storage can help. Our modern, clean, and amenity-packed facilities offer the right amount of storage space for any use. If you have questions about storage or need ideas on how to make it work for you, we have plenty of tips! To get started with a storage unit, visit your nearest facility today.
More From Advantage Self Storage