3 Ways a Map of Your Storage Unit Helps You Stay Organized
Using a map to plan out your storage unit is one great way to ensure you know where to find everything in your space. Get organized and make your map today.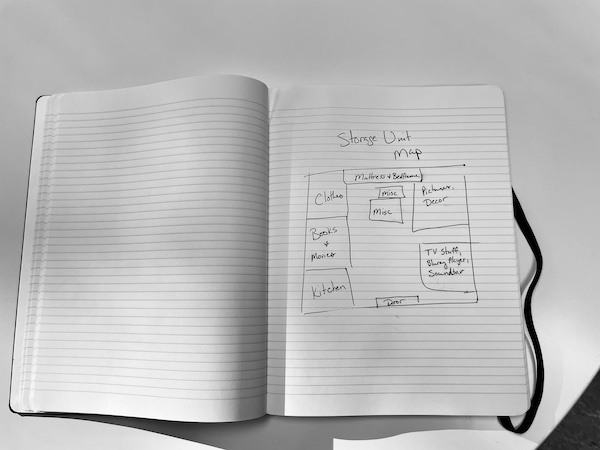 A storage unit map gives you a simple way to keep a handle on storage organization. Whether you sketch it on paper or draw it on a laptop, using a map to ensure your storage unit stays tidy and organized can really give you peace of mind. Whether you need to frequently visit your unit or plan on leaving items in storage for a while, it just makes sense. Check out these three great reasons why a unit map belongs on everyone's list of smart storage tips
Drawing a map keeps your unit organized.
Start with a search for nearby storage facilities. Next, check the availability of different unit features and sizes. Use that information to sketch a rough map of the space before moving into your storage unit. As much as you're able, divide the storage unit into sections based on items, types of rooms, or even how often you'll need to access what's inside. Don't forget to give yourself some space to move around!

If you already have a storage unit rented, you can still make a map and benefit from it. It may take a little longer. To the best of your ability, take stock of what's currently in your unit and then regroup everything by category. Design your map with assigned areas for things like kitchen boxes, seasonal clothes, and sporting gear. If you've already clearly labeled all your boxes before moving in, this step goes quickly.

Whether you draw a handy guide before or after moving in, the diagram gives you a system for controlling everything. When you rearrange shelves or store new items, just make a quick adjustment to the unit map.
Mapping your storage unit saves time.
Rummaging through things in storage can seem like an endless chore. Sorting out a box avalanche takes forever. It all adds up to lost time you'll never get back.

Mapping qualifies as one of those simple storage tips that turns hours into minutes. Use these time-saving tricks to convert your drawing into a quick guide for fast-tracking through the unit:
Check online for free floor plan apps that make unit mapping even easier.
As you work on a layout, include extra floor space for large items.
Coordinate color-coded box labels with a matching map legend.
Designate at least one location as flexible space for seasonal things.
Whenever you make changes inside the unit, be sure to update the map.
A storage unit map makes sharing space easier.
Do you share a storage unit with family, friends, or roommates? Make the arrangement easier by putting your map to work. Most people divide their storage units up by types of items, but you can also dedicate space inside for each person's belongings.

A storage unit map streamlines everyone's search for everything from camping gear to holiday decorations. The map becomes a quick-reference inventory to your storage, so post it just inside the unit's front door.

Ensure everyone has access to the map, too. Hang a copy of the map next to the door to your unit as well as every wall. It's hard to get lost in a storage unit, but the maps make sure no one loses sight of what they're after. Keep a master map at home so that you can update changes and post the latest copies.
Enjoy Self Storage That Fits at Advantage Storage
Whether you draw it by hand or on the computer, a unit map optimizes storage organization. We're happy to help with modern, climate-controlled storage facilities across Texas, Arizona, and Colorado. Our Advantage Storage teams are ready to help you lay out storage solutions that always fit.
More From Advantage Self Storage