Your Guide to Moving to Phoenix, Arizona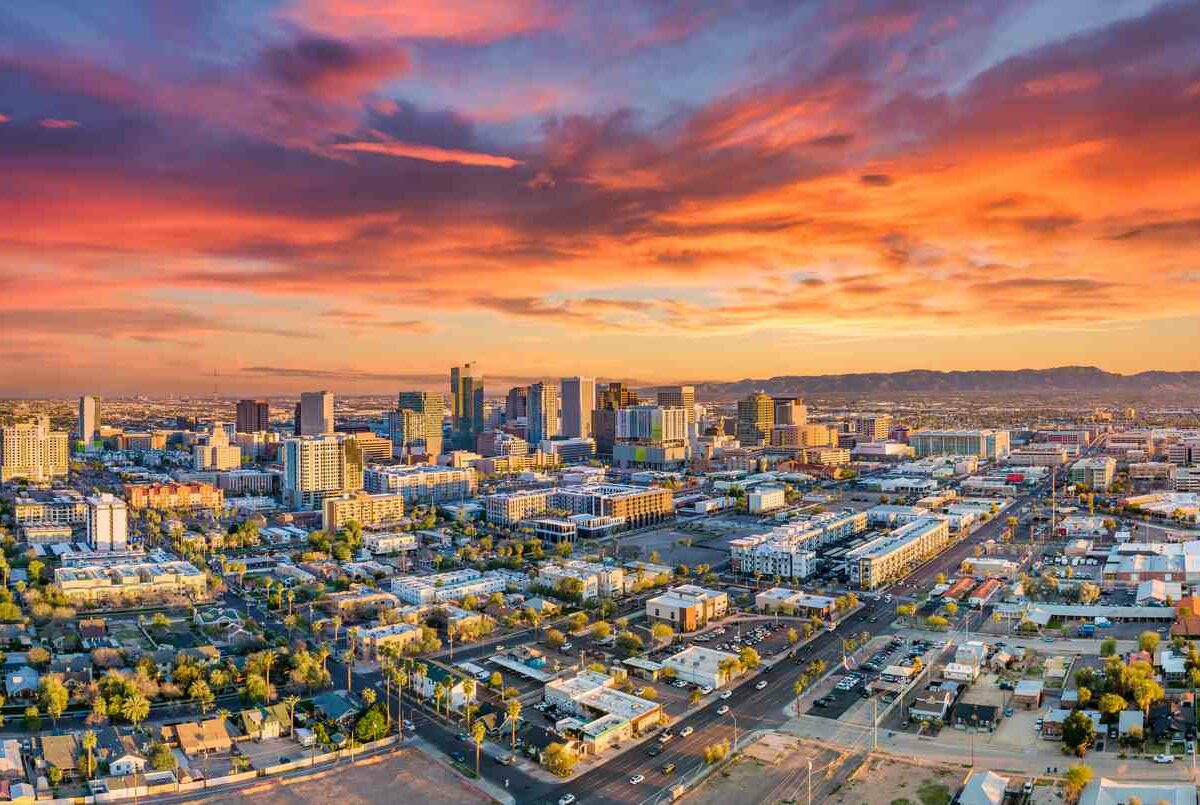 As the biggest city in Arizona, Phoenix has it all: warm weather, beautiful desert scenery, great food, and plenty of things to do. If you're thinking about making Phoenix your home, the professional, knowledgable staff at Advantage Storage is here to help. In this moving guide, you'll find tips for a smooth move and recommendations for a fulfilling residency. When you're ready to start your new life in the Valley of the Sun, our Arizona self storage locations will be ready to help you with the logistical challenges that come with any big move.
What's the weather like in Phoenix?
Phoenix is in the heart of the Arizona desert, which means a lot of sunny, warm days all year round. If you hate cold weather, Phoenix is an ideal spot: even in the winter, the temperature rarely dips below the mid-forties. However, the scorching summers may test even the biggest hot weather lovers, with typical highs in the 100s and even the 110s. Needless to say, air conditioning and frequent pool dips are essential to beating the summer heat in Phoenix. But if you can make it through those months, the temperate winter weather is hard to beat.
Phoenix Jobs and Traffic 
If you don't have a job lined up yet, don't worry too much. The Phoenix metro area is one of the ten largest in the United States, which means there are lots of companies in the area looking to hire. Top industries include manufacturing, health care, and retail. As the capital of Arizona, Phoenix also offers plenty of government jobs. And some people have started calling Phoenix the "Silicon Desert," as tech companies continue to flock to the area to take advantage of lower operational costs in the state.
Best Neighborhoods in Phoenix
Whether you're single or married with children, you'll be able to find a great place to live in the Phoenix area. Here are some neighborhoods to check out.
Neighborhoods for Families
Encanto Village is just north of the city center and offers good schools, easy access to public transit, and the beautiful Encanto Park. Alhambra is one of the most diverse neighborhoods in the city and has lots of great places to eat, while Arcadia features some of the best schools in the city.
If you have the budget, look for a spot in Old Town Scottsdale or North Mountain Village– they're a bit further out, but the schools are great, the streets are safe, and there are countless things for you and your kids to do on the weekends. Biltmore is another pricier option, featuring the Phoenix Botanical Gardens and the Phoenix Zoo.
Neighborhoods for Singles and Couples
If you're looking for that big city feel, Downtown Phoenix will deliver. Museums, cocktail bars, baseball games, and all the energy that comes from being surrounded by thousands of busy people. And when you're looking to take a break from all that energy, you have easy access to the airport.
If you want a more relaxed day-to-day vibe, Paradise Valley Village offers plenty of outdoor activities like golf and hiking, without sacrificing the happening nightlife of the city. Desert Ridge is similarly chill, and the Desert Ridge Marketplace is a great place to shop, play bocce ball, and listen to live music. And if you end up having kids, you can stay put to take advantage of the high quality schools.
Things to Do in Phoenix
Once you're settled in, you'll have no shortage of activities to choose from, no matter what interests you. Here are some ideas:
Check out some professional sports
Phoenix has teams in all four major American sports leagues, which means that sports fans will have plenty of fun all year round. During the summer, take in a Diamondbacks baseball game at Chase Field downtown– don't worry, the roof closes when the temps are high, so only your hot dog will sizzle. In the fall and winter months, you can take in a Suns basketball game downtown, head out to Tempe for a Coyotes hockey game in the cozy Mullett Arena, or drive up to Glendale for a Cardinals football game.
If you're already a fan of a baseball team from somewhere else, you may get a chance to see them play at one of the nearby Cactus League spring training sites starting in mid-February. Check out a game or two at one of the stadiums in Mesa, Tempe, Surprise, Peoria, or Phoenix proper. It's a chance to see big league players perform in a small, intimate setting.
Hit the art scene
Phoenix is a diverse and vibrant city with an art scene to match. Check out the First Friday art walk downtown to see what local artists have been working on– you may even want to buy a piece to make your new Phoenix home feel alive. You can also experience the art and culture of the American Indians of the Southwest at the Heard Museum or see exhibits from all over the world at the Phoenix Art Museum. Plus, Phoenix has some of the best street art in the world, including "Mural Alley" in the Roosevelt Row Arts District.
If live performance is more your speed, you can see Broadway plays at the Orpheum Theatre, classical concerts at the Phoenix Symphony, or even puppetry at the Great Arizona Puppet Theater.
Recreation, relaxation, and fine dining
Phoenix is home to hundreds of golf courses, spas, pools, and excellent restaurants. Play 18 holes and then take a dip in your nearby public pool. Or take a hike at Camelback Mountain and then grab some tacos. In 2022, 10 chefs in the Phoenix area were semifinalists for the James Beard Awards, some of the most prestigious food awards in the world– so it's safe to say that you'll have some great spots to choose from.
If it's too hot for a hike or a round of golf and the kids are getting restless, check out the Arizona Science Center or Children's Museum of Phoenix downtown, or head out to Scottsdale to check out the OdySea Aquarium. They're all great ways to have fun in air-conditioned comfort.
Arizona adventures
The state of Arizona is not only gorgeous, but surprisingly varied in terms of scenery. You don't have to travel far from Phoenix to find pine trees, mountains and even snow. Here are a few in-state spots perfect for weekend getaways. Consider this your moving to Arizona guide!
Grand Canyon
If you've never been to the Grand Canyon, trust us: it's worth the trip. One of the most stunning natural wonders in the United States is just four hours away from Phoenix and offers incredible views all year round. Buy a digital pass before you go, and if you're up for it, sign up for a rafting adventure on the Colorado River.
Flagstaff
Flagstaff is a lovely college town that feels worlds away from Phoenix, but is actually just a couple hours away. Enjoy the restaurants in the walkable downtown area or go skiing in the Arizona Snowbowl, just seven miles north of town.
Sedona
The unique red rocks of Sedona are a must-see for any nature fan, and there are plenty of hiking trails that offer great views. Go shopping downtown, check out some local art, and throw in a jeep tour for good measure. At just under two hours from Phoenix, Sedona is an excellent option if you need to get away from the hustle and bustle of city life.
Use Self Storage to Make Your Move Easier
If you're ready to move to Phoenix and enjoy everything it has to offer, Advantage Self Storage can help. We sell boxes and moving supplies on site, and our friendly employees are happy to help you figure out exactly what you need.
If you have too much stuff for your new home to fit comfortably, our storage units can accommodate the overflow. They come in a wide range of sizes, and our climate control systems, personalized unit codes, and video surveillance features will keep your things safe and secure for when you need them. And if your need for extra storage is temporary, our flexible month-to-month leases mean you won't have to commit to a long contract.
Advantage Self Storage has several convenient locations in the Phoenix area. If you have an RV for cross country adventures, find state-of-the-art storage at Advantage Storage – Platinum RV in nearby Surprise, AZ. We offer fully enclosed spaces with high-quality, premium amenities including 24-hour access, electricity hookups, dumping stations, and more.
Find a facility closest to your future neighborhood and give them a call. We're happy to help you with the logistics so you'll have more time and energy to get acquainted with your exciting new city.
More From Advantage Self Storage