How to Store Your Seasonal Wardrobe Properly
Warm weather is on its way, and it's almost time to store your winter clothes. Learn how Smart Space makes seasonal wardrobe storage simple.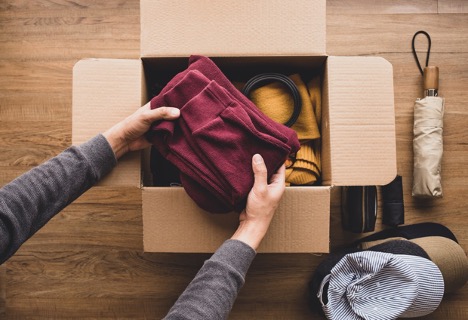 Anticipating warmer weather? We are, too! The sunny months are approaching, and it's time to start preparing for it. When you're ready to swap out sweatshirts for shorts, here are seven tips to follow when you store your seasonal clothes to make the most of your available space, whether it's in your closet or your Lakewood storage unit. 
Prepare Your Clothes for Storing
Before you dump your winter clothes into a box, you should prepare them for storage properly. Start by washing all of the items you wish to store. For your more delicate garments, such as blazers, woven sweaters, and silk tops, take them to get dry-cleaned to avoid damage and irreversible stains. If you plan on storing shoes and boots, prep them by removing any noticeable dirt and scuffs, and invest in shoe and boot trees to keep them from losing their shape.
After washing all of your clothes, it's time to organize them. To make it easier for you to find what you need next fall or winter, sort your clothes into categories, such as jackets, sweaters, sweatpants, gloves and scarves, boots, etc.
Find Bins and Boxes to Store Your Clothes
You can pack your seasonal clothes in many different containers for storage: cardboard boxes, plastic bins, suitcases, canvas bins, and more. When choosing what to store your clothes in, consider these tips:
Plastic bins: These bins are ideal because they not only offer protection from moisture and bugs, but they are also clear, making it easy to see what's in them.
Cardboard boxes: This option is okay for short-term storing, but these boxes, offer no protection from moisture, and can rip and tear if filled with too many clothes.
Suitcases: The good thing about suitcases is that most of them come with wheels, so they are easy to transport. One downside, though, is that you won't be able to see what's stored inside of them immediately.
Canvas bins: If your shelves are open, these bins are not only stylish but are also extremely breathable. They can be more expensive than other options but are a great option for delicate clothing.
Take Advantage of Vacuum-Sealed Bags
Vacuum-sealed bags are an ideal space-saving solution. After packing all of your clothes in one of these bags, use a vacuum attachment to remove all of the air. The bag shrinks for easier storage. It can also help keep moisture out.
Pack the Bins and Boxes Based on Categories
Pack your bins and boxes based on the categories you chose. Use labels, even on the clear plastic bins, and neatly mark what each bin contains. This way, when you need something quickly, you can find the bin and pull the item you need out easily. Don't forget to label bins or boxes on all sides, especially if you place your clothing into a storage unit.
Determine a Space to Store Your Clothing 
Now that everything is packed and labeled, it's time to decide where you want to store your clothing. Most people store their seasonal clothing in closets, attics, and garages. While these places may be considered practical, they aren't always the best choices.
Your closet may be a good option if you have ample space to use. Most closets, however, usually don't come with ample space to store the clothes you aren't wearing. Attics and garages can be good options because they usually have more storage space. However, they are more prone to excessive heat, moisture, and pests. Clothing should be stored in a cool, dark, and dry place.
Store Your Seasonal Wardrobe with Smart Space Self Storage 
If you're looking for just the right spot to store your seasonal wardrobe, we recommend renting a storage unit at Smart Space Self Storage! We offer climate-controlled storage units in an array of sizes to fit your clothing storage needs. Our climate-controlled units are kept at consistent temperatures year-round to help protect your clothes from extreme temperatures.
We provide affordable and flexible month-to-month leasing terms, so once it starts to get a little chilly again, you can visit your storage unit and reunite with your winter clothes at last! Rent your seasonal storage unit online today or read more of our helpful storage tips.
More From Advantage Self Storage