How to Prepare a Mattress for Storage
Storing your mattress involves more than taking a bed apart and packing it away. Learn how to properly prep your mattress for self storage.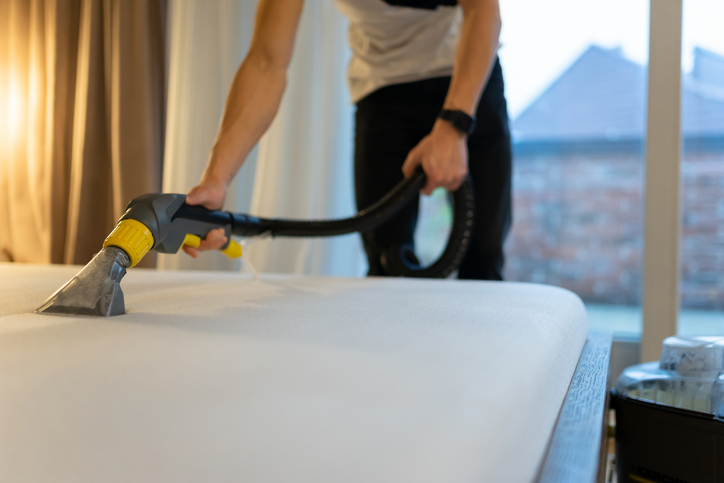 No matter how much we love our beds, it's hard to know what to do with a mattress when moving. Whether you're moving across town or placing it into a storage unit, taking some key steps to help prepare your mattress for moving or storage can both make the process easier and prolong its life. If you plan on placing your mattress into storage with Advantage Storage, follow these tips.
Why You Should Clean Your Mattress Before Storing It
We use mattresses every day and often for many years. They can accumulate a lot of dust, crumbs, and dead skin cells. For this reason, experts recommend cleaning your mattress at least twice yearly. You spend a lot of time in bed, so keeping it clean is as important as vacuuming, dusting, and disinfecting the rest of your home. Doing this can even help prevent gross, costly pest infestations. Storing a dirty mattress can also result in mildew or mold growth over time.
How to Vacuum Your Mattress
Remove sheets, pillows, blankets, and bedspreads, and set them aside to be washed. Vacuum away pet hair, dust, food, dandruff, and other nasty stuff using a handheld vacuum or the upholstery attachment on your sweeper. A crevice attachment helps with nooks and crannies. Don't forget to run your attachment along the seams.
Spot-Clean Your Mattress
Whether your child or pet has the occasional accident, or you've spilled a little red wine while binge-watching your favorite TV series, spot-cleaning can help restore your mattress to a relatively pristine state. Try one of these cleaners:
Upholstery cleaner
Enzyme-based cleaner designed to get rid of pet odors. These are also good for eliminating urine and other stubborn liquids
Spray bottle filled with a cup each of vinegar and warm water
Prevent oversaturation by only applying as much cleaner as you need. Blot wet areas with paper towels or a clean, dry towel after cleaning.
Deodorize with Baking Soda
There's a reason we keep an open box of baking soda in the fridge—it's an excellent deodorizer. Get the same benefit for your bed by sprinkling the powder liberally over your mattress. Don't be shy: Use the entire contents of a one-pound box if you like. Avoid using your bed for 24 hours for the best results.
Air Your Mattress Out for Maximum Freshness
After cleaning your mattress, treat it to a little sunlight and, if possible, fresh air. Wait for a sunny day as the sun is critical to the purifying process. Place the mattress on your patio, balcony or in another outdoor space and wash bedclothes while you wait. For best results, air out your mattress for three to four hours.
While placing your mattress outside is ideal, you can still benefit by putting it near a window that gets full sun. Give it as much air and sun as possible by opening the window and choosing a sunny day.
How to Protect Your Mattress While Moving It
It's important to know how to pack a mattress properly before placing it in your vehicle or moving truck. After all, you don't want to destroy the results of all your hard work by getting your mattress dirty during a move. Old sheets or blankets will work in a pinch, but a mattress bag offers the best protection for moves. Not sure where to find one? Visit your nearest Advantage Storage location for these and more moving supplies!
When choosing a storage unit for your mattress, consider a climate-controlled storage unit to help keep it protected from heat and humidity. When moving your mattress into a unit, it's best to lay it flat. You should never store a mattress upright for an extended period. Failure to lay it flat could lead to damage to the coils or cushions. Finally, avoid placing anything on top of your mattress during moving and storage.
Choose Advantage Storage for your Mattress Storage Needs
When the time comes to downsize, move, or simply make some space in your spare bedroom, consider Advantage Storage. Our climate-controlled storage units are great for storing mattresses and other bedroom furniture. To learn more, visit your nearest facility today.
More From Advantage Self Storage