How Can I Freshen My Home on a Budget?
Freshening up your home decor doesn't take a massive renovation. Learn how a few smart purchases can help make a big change.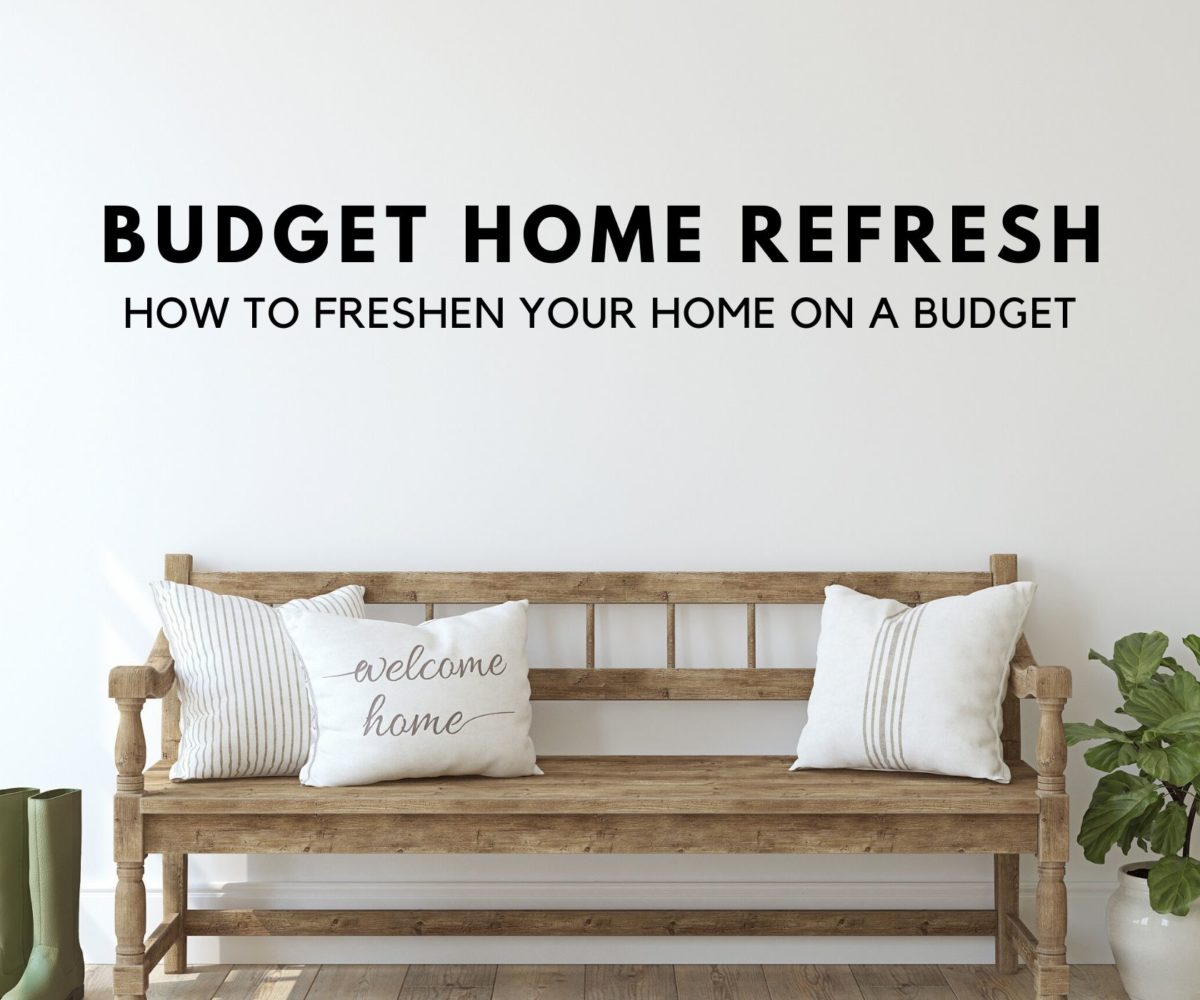 From HGTV shows to magazines, the aspirational attraction of renovating or redecorating our homes is everywhere. Spring, with the abundance of fresh air and sense of newness, is a perfect time to think about it, too. Unfortunately, making drastic changes to your home's architecture or design can be fairly expensive.
If you're in the mood for a home refresh but not in the right place when it comes to budget, how should you approach the task of refreshing your home? Luckily, there are a few simple changes you can make that won't break the bank and could give your living space a much-needed facelift. Whether you're looking to revamp your rec room or beautify a bedroom, we have some tips and tools for you (including one of our favorites—storing your belongings while you do it!).
Give an Old Room a Fresh Coat of Paint
The best, most cost-effective way to freshen up a room in your home is to give it a fresh coat of paint. Whether you're moving from a dark wall to something much brighter, thinking about giving it a splash of color via an accent wall or a new pattern, or simply touching up spaces that haven't been painted in a while, painting is one of those things that always makes an immediate impact.
The best part about painting is that it's generally inexpensive. The biggest investment you'll usually have when it comes to painting is time, and that's especially true if you decide to do it yourself. Having sweat equity in the transformation of your home can give you a sense of accomplishment and will help save you money that can go toward other improvements in your home.
Keeping Painting Costs Manageable
If you do decide to do a paint job yourself, you can take steps to help ensure the project stays relatively inexpensive. If you're painting over a dark wall, use a good primer that's meant for the job. This will limit the number of coats you'll need to do with the actual paint, which typically costs a lot more than primer on its own.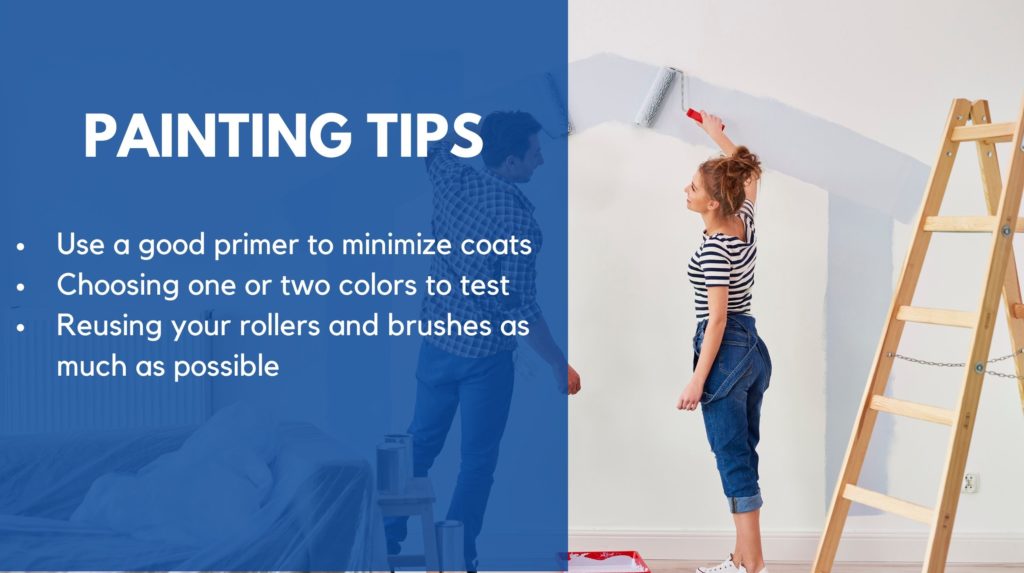 Speaking of color, if you try to narrow your choice to one or two color families, you can purchase cans of tester paint that don't have the finish mixed in. This allows you to get a good idea of what the paint will look like on your walls. For a more accurate reflection of the final product, paint a few different sections of the wall with your test color and revisit it during different times of day. This will allow you to see what the paint will look like from various angles, as well as determine how natural light will impact the color you see.
When it comes to paint supplies, buy the right sized brushes and rollers and clean them after each use. Another option for roller storage is to place it in a freezer bag and refrigerate it. This will keep the paint from drying on the roller and sticking, prolonging its life—and saving you money. Don't forget to tape off trim areas and outlets, removing the covers whenever possible. Drop cloths can help with cleanup and allow you to avoid spills.
Change Wall Decor, Curtains, and Linens
So your new coat of paint made a difference, but you still want to change things up even more: Consider replacing other elements in the space, such as the curtains, linens, and pillows. Sheer curtains can help let more light into the room. Adding new pillows can give texture and pattern to furniture. Switching your bedding from a darker, heavier winter comforter to something lighter and brighter can make a difference, too. Consider going with simpler patterns to limit visual distraction.
If you're looking to make a more drastic change, such as with new furniture fabrics, you may want to entertain the idea of a slipcover for your sofa or chair. In some cases, this will allow you to change the look of a piece of furniture completely without replacing it with something more expensive.
Finally, think about wall decor. Mirrors are a great way to help make rooms appear larger, especially if there's already plenty of natural light. Just be careful not to get something too large—in some cases, having a mirror with a big, dark frame can make the room look smaller.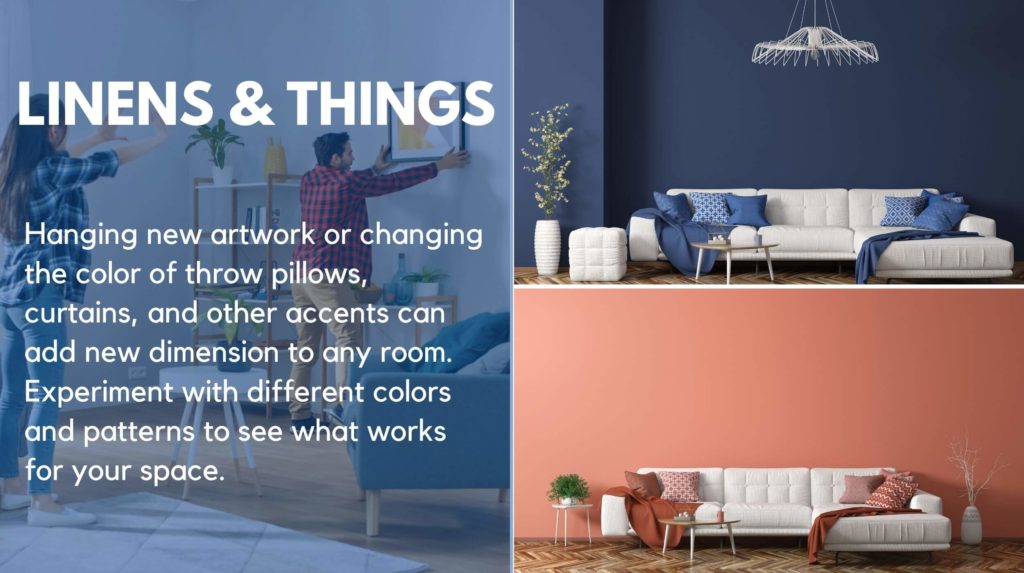 Rearrange Your Furniture
Whether you are painting, replacing wall decor, or going through the process of an actual renovation, your furniture is going to have to move somewhere. Painting the walls is a great time to consider flipping your seating arrangements. Rearranging furniture can give you a new perspective on a space and help open up a room by changing the flow. If you really want to spend money in the room, you might want to invest in a couple of new pieces of furniture that you'll keep for years (think sofas and entertainment stands—items that are heavy and expensive to replace).
Remove Unused Furniture or Fixtures
What if your room has furniture in it that's not often used? If you're not regularly sitting in a chair or storing clothes in a dresser, maybe it's time to think about removing them from the space entirely. Do you have an overhead light that rarely gets used? Consider taking it down. In these cases, rather than selling a piece of furniture, self storage might be a great solution to solving the problem temporarily. When you store a piece of furniture in self storage, you're allowing yourself the flexibility to add it back into the room whenever you need it.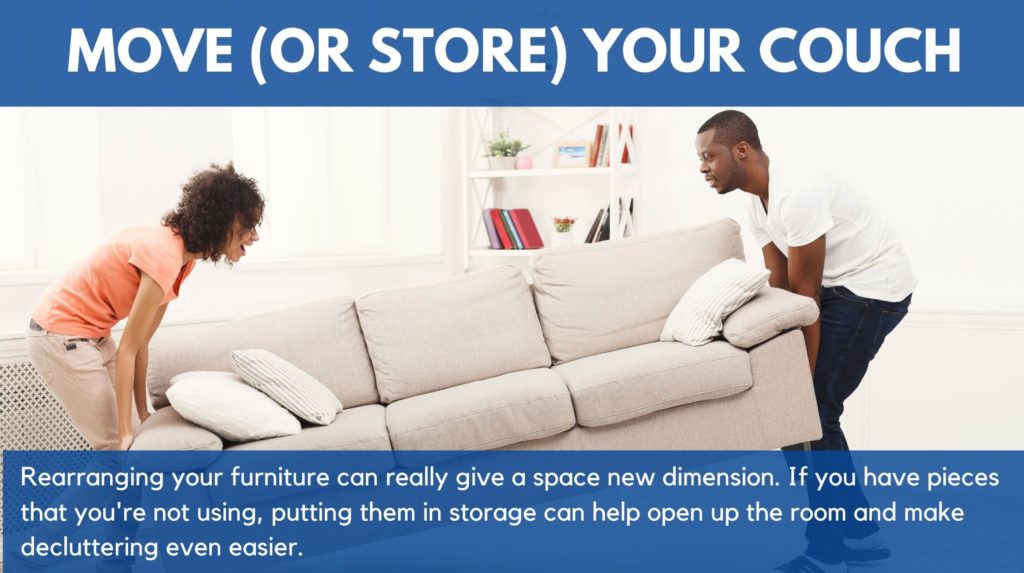 Think About Self Storage During Your Decoration Decision-Making
Revamping a room (or several rooms) in your home doesn't have to be an expensive, time-consuming process. With a few strategic changes, you can breathe new life into just about any kind of space. With some careful planning, a little preparation, and a whole lot of elbow grease, you can completely change the look of your home—even in the span of a weekend or two.
If that kind of transformation appeals to you, consider how self storage can help simplify the process. Clear out rooms and tackle the task of repainting on your own time, or use it as a temporary home for furniture you may not know how to use. Offload your seasonal decor without taking up valuable space in your spare bedroom or closets. The applications are limitless!
If self storage sounds like something you'll benefit from when it comes to your home transformation, trust Advantage Storage to help! Our facilities are equipped with amenities such as climate control, elevator access, and drive-up storage units to make loading and unloading easy. To get started, check out our size guide to determine your needs or visit a location near you today!
More From Advantage Self Storage