The Ultimate Moving Checklist
Whether you're moving into self storage or to a new house, here's everything you should do prior to and during your big move to help make it a success.
Moving is a process that requires planning, time, and money—sometimes a lot more than you expected. From relocating across town to hauling your life's belongings across the country, a major move is demanding, and proper planning is the only way to ensure it goes smoothly. Common moving questions include "How far ahead should you begin to plan?" and "Do you need to hire movers?"
To make sure you're covering all the bases, a comprehensive moving guide can come in handy. As your local storage and moving expert, Advantage Storage has collected our best packing tips, moving tips, and storage tips to get you through the to-do's before, during, and after a big move.
Before the Move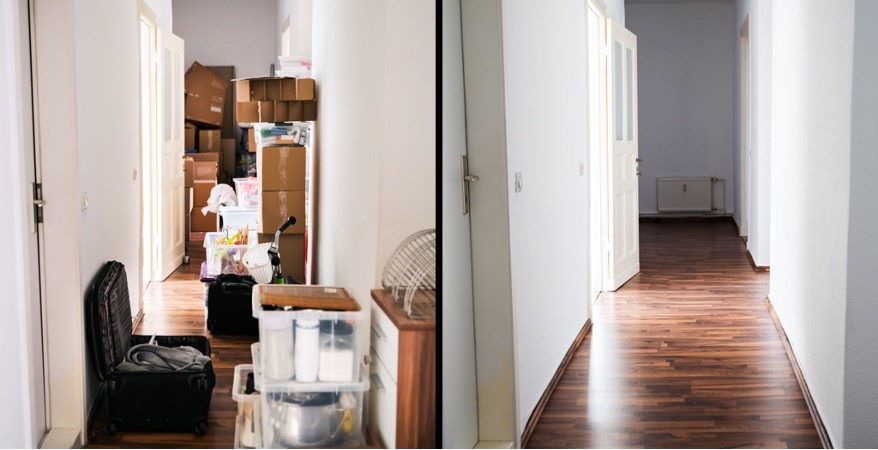 Determine Your Moving Budget
When: 2 months before
Budgets are great for setting realistic financial expectations for a move. Your costs will depend heavily on how far you're moving, how much stuff you're hauling, and how much help you're recruiting. Potential moving expenses to account for include:
Home repair costs
Cleaning fees
Packing and moving supplies (boxes, tape, bubble wrap, markers, etc.)
Moving truck or containers
Professional packers and/or movers
Rent/utility deposits or down payments
Self storage unit rental
Food, transportation, or lodging while traveling to destination
New furniture, all new groceries, and other household items needed upon arrival
Note that some moving expenses can be tax-deductible—so save your receipts! For instance, you might qualify for a deduction if you are making a move or relocation for work. Check out the IRS website to learn more about whether you can deduct any moving expenses.
Declutter, Downsize, Donate, and Dump Old Belongings
When: 1-3 months before
Downsizing or decluttering your possessions can be daunting, but it can help make moving less of an ordeal. Before you even begin the packing process, sort through your belongings to determine their fate: Should you sell it, donate it, trash it, or store it away? If you haven't used it in the past year or longer, consider getting rid of it.
Feeling overwhelmed? Take things one room at a time, and separate your items to be kept, donated, sold, or thrown away into different locations or boxes.
Find Movers or a Moving Truck
When: 1-2 months before
Depending on factors such as demand for service and where you live—particularly during the busy summer moving season—securing a time slot with a trustworthy moving company can be a challenge. If you choose to hire moving assistance over a DIY approach, don't wait until the last minute to contact the movers! Reserve your post with them and book early. If something changes or you find a better alternative, you can always cancel your appointment.
On the fence about whether you should hire the pros or rent a moving truck and do it yourself? The following factors in the final cost might sway your decision:
How far away you are moving
How tight your budget is
How many items and boxes will be transported
How difficult it is to maneuver furniture in and out of your home
To choose the best route for you, weigh all the available options for moving assistance:
Move, load, and drive it all yourself (or recruit help). Friends with pickup trucks, beware. If you know any kind souls who would be willing to offer their vehicles to help move your items, you may be in luck. However, people's personal trucks or vans will have space, making a cross-country or long-distance move tricker if you have to make multiple trips.
Get a moving truck. Renting out a moving truck for a day or two is an affordable option, especially if you're only moving across town or a few cities over. Just make sure someone is comfortable with driving and maneuvering the bulky box truck, and you factor in the cost of fuel when you return it.
Rent portable containers. Containers and "pods" make the most sense for long-distance moves. Packed by you or your movers, these portable containers can be shipped from your old home and delivered to your location. Despite the overall convenience of this option, it's crucial to research the reputability of whatever company you choose.
Hire movers at an hourly rate. Whether you need help with transporting your belongings or could use a hand loading your own moving truck rental, hourly movers can save you some exhaustion. Plan to tip your movers, too, especially if you are satisfied with their services.
Hire full-service movers. Full-service moving companies are the most expensive option, but they can also help eliminate a lot of stress. These types of movers can truly do it all, from providing packing and moving materials to assembling and disassembling furniture for you.
Update Information and Transfer Services to New Address
When: 2-4 weeks before
To ensure you get your own mail after you move, officially change your mailing address with the United States Postal Service. In addition, you can set up mail forwarding from your old address for a specified period of time.
You also need to notify all utilities or other organizations you're associated with that you will be either canceling or continuing your services at a new address. Keep a running list of any companies you need to contact. A few weeks before you move, schedule the shutoff of utilities at your current address. Then you can schedule new services at your new home.
Examples of utilities, subscriptions, or services you might want to update include:
Gas
Electric
Water
Internet
Cable
Banking or investment accounts
Credit cards
Insurance policies
Gym memberships
Cell phone providers
Healthcare providers
Family and friends
During the Move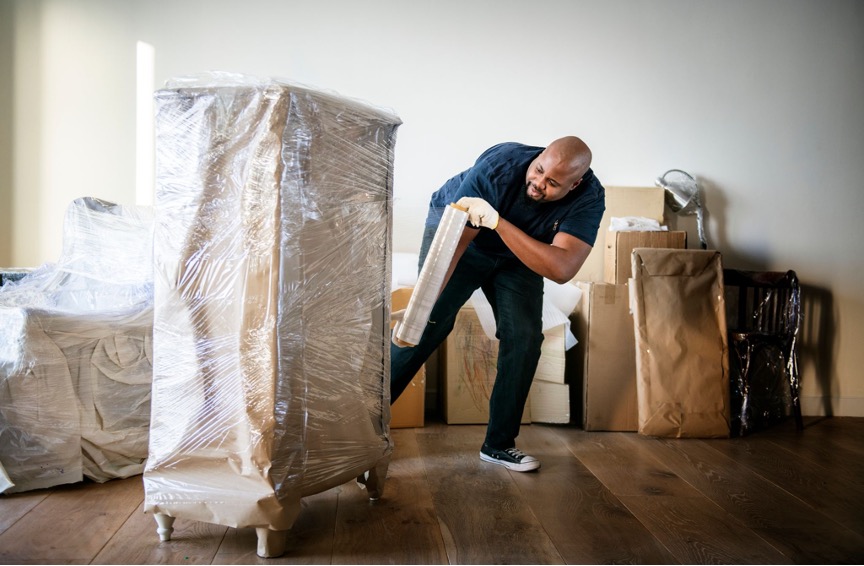 Gather Your Packing Supplies and Moving Materials
When your moving-day plans are solidified, it's wise to begin collecting the packing and moving supplies you'll need. Between old empty boxes in the back of your closet and that extra bubble wrap you know is somewhere in the basement, you might assume you have enough to support your move (only to be left scrambling for materials approaching moving day). Securing plenty of sturdy, quality packing material is key to a successful moving experience.
Make sure you secure plenty of quality, sturdy packing supplies for your move, including:
Cardboard boxes (multiple different sizes)
Bubble wrap
Packing peanuts
Packing tape
Wardrobe boxes
Mattress bags
Moving blankets
Stretch wrap
Packing Tips for a Move
Pack with a Purpose and Plan
Starting the packing process is the hardest part, but avoid procrastination. Chip away at the task day by day until the move gets closer. Designate an area for boxes at home, and fill them a little bit more every day. Pack strategically, beginning with the rooms and items you won't need before you move. This step usually dovetails nicely with staging your home for sale, so you can take care of two things at once!
Wrap Fragile Items
Anything that could break or shatter should be well-padded inside their containers or the moving truck. Use wrap for furniture, bubble wrap for glass, and even towels and old clothes for dishes and other items.
Place Heavy Items in Small Boxes (and Vice Versa)
The heavier an item, the smaller the box in which it should be packed. Packing heavy belongings in small boxes and light items in large boxes makes the boxes easier to carry and less susceptible to breaking.
Label Boxes on All Sides
Using a dark marker, mark the side of each box with its contents as well as the room in which it will be unpacked in your new home. This can also provide helpful direction for movers as they bring everything inside.
Seal Boxes with Packing Tape
Obviously, taping boxes shut prevents items from falling out, but it also helps keep out dirt and debris.
Take Advantage of Hidden Space
As you pack, don't forget to take advantage of valuable space inside nooks and crannies such as trash cans, refrigerators, dressers, and other drawers.
After the Move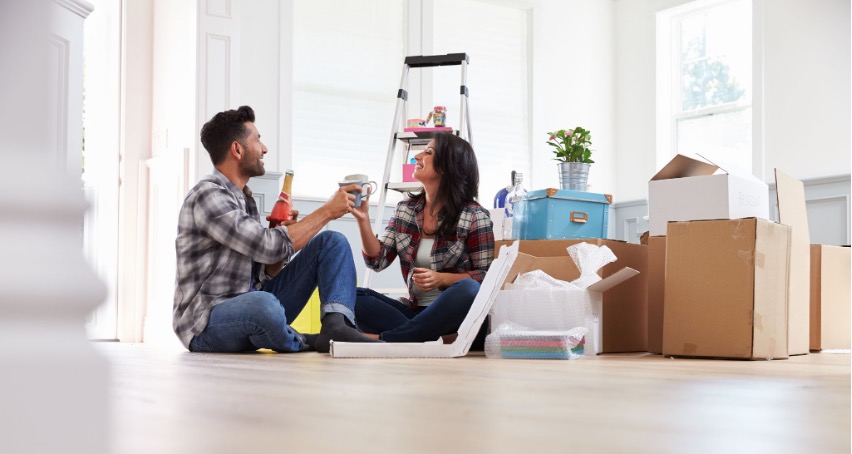 Unpack and Get Settled
Hopefully, you set yourself up for success enough that the unpacking can be fun. But after you unpack the essentials, kick back, relax, and order yourself a pizza. Take some time to envision where you want all your furniture; don't hastily move everything just for the sake of giving it a spot, as you might change your mind the next day. You want to unpack and arrange your items quickly but strategically, doing it right the first time.
Storage Tips for Maximizing Your New Space
If you're organized, you already designated which boxes and items will be kept in storage versus unpacked in your new digs. With that said, in an unfamiliar space, it's common to realize that you lack room for certain things.
If you're storing belongings at home in the closets, basement, or attic, protect them using the following storage tips:
Store clothing in a wardrobe box or on hangers.
Use furniture pads or covers for upholstery, mattresses, and legs of tables, chairs, and more.
Pack books, documents, and other paper products flat in smaller boxes so they do not become bent or distorted and are easier to carry.
Pack media like movies, CDs, records, and video games inside well-sealed boxes or even airtight plastic containers.
Find a climate-controlled storage unit or temperature-controlled space for storing sensitive materials like wood, leather, electronics, and more.
Check Storage off Your List of Moving Tasks with Advantage Storage
Life transitions are exciting, but they're not all fun and games. Keeping a proactive mindset before a major move will pay off in terms of stress and efficiency on moving day. Part of preparing to move involves figuring out where you'll keep excess or off-season belongings when you can't store them at home.
Fortunately, you can turn to Advantage Storage for reliable self storage units near your new home. No matter if you need climate control, a ground-level unit, vehicle storage, or even a moving truck rental, we offer what you need in a range of unit sizes. Refer to our storage unit size guide on any facility page to decide which dimensions to choose. Find an Advantage Storage facility near you to rent your storage unit today!
More From Advantage Self Storage