Must-Try Kitchen Organization Ideas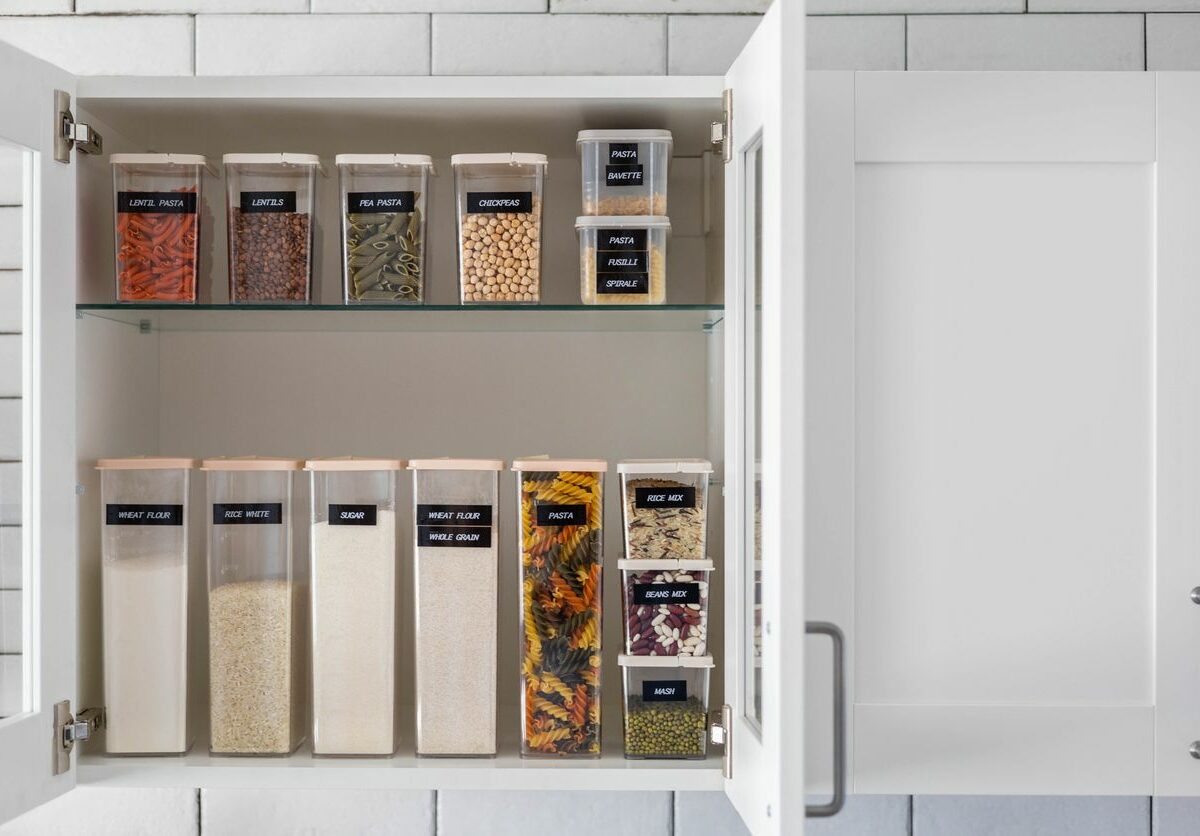 Keeping a clean and organized kitchen can be tricky, particularly if you're keen to cook frequently. Putting items in cabinets and drawers keeps them out of the way but if you don't have a good system in place, you may find yourself digging around for tools longer than you spend cooking. No matter if you're a self-proclaimed chef or tend to opt for quick and simple meals, an organized kitchen helps ease and elevate your cooking experience.
From streamlining your stovetop to calming the chaos in your cabinets, the modern world offers a whole range of methods to staying organized in the kitchen. Everyone's needs vary depending on the layout of your kitchen and storage space available. Generally, however, you can complement your cooking style with the following storage tips from the experts at Advantage Storage for an organized kitchen.
Food Organization 
A clutter-free kitchen begins with organizing your food storage situation. This not only keeps everything easily accessible, but it also clears up space in your fridge, freezer, and cabinets so you can keep the items you use regularly within reach and view.
Some great tricks to keep your food organized include:
Getting a spice rack organizer, whether for your cabinets, drawers, or countertop
Installing stackable bins for produce and refrigerated items
Regularly cleaning out and reorganizing your refrigerator and freezer
Using containers creatively as storage solutions (e.g., glass jars for storing dry goods, leftover tins for coffee and sugar, etc.)
Dishes and Silverware Organization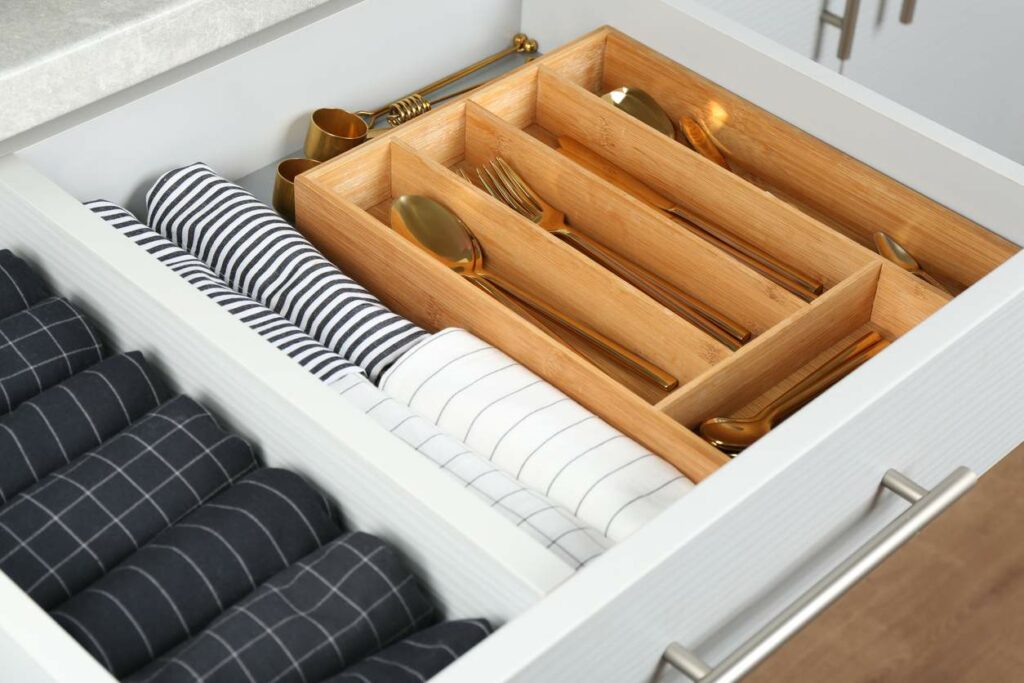 The first rule to keep in mind for an organized kitchen is keeping all frequently-used utensils, plates, bowls, and cups within easy reach. Whether you utilize vertical space on the walls or racks inside the cabinets, there are various effective ways to do this, including:
Installing a pegboard for flexible hanging space
Hanging pots and pans from hooks or on racks
Using a magnetic knife strip on the wall to keep them within short reach
Using drawer dividers and organizers for cutlery, utensils, and other kitchen tools
Placing magnetic hooks on the fridge for lighter items (like oven mitts or cooking spatulas)
Pantry and Cabinet Organization
Food prep and other daily tasks in the kitchen are made significantly simpler with clear countertops and organized cabinets. Some tips for a more pantry space include:
Grouping similar items together, labeling them in clear containers when possible
Placing baskets or shelving inside lower, taller cabinets to make it easier to pull things out
Taking advantage of the inside of cabinet doors by installing hooks for lids, utensils, rags, and more
Packing and Storage Tips for Kitchen Items
At times, the most practical solution to creating more space in your kitchen is to pack away certain items to be stored elsewhere. Kitchen gear, unfortunately, can be difficult to pack, so it's important to follow the correct packing tips to help safeguard some of those more fragile or oddly-shaped belongings.
Decide What You're Storing 
Planning exactly what you'll be packing up and taking out of your kitchen is the first step to strategic kitchen reorganization. If you settle on renting self-storage, consider the storage unit features you'll want for the types of things you will store; for instance, do you need storage with climate control for temperature-sensitive kitchen items? If your kitchen is undergoing a full renovation, you'd likely benefit from drive up storage. You can park directly in front of these spaces, which makes moving large, heavy items into and out of your unit as seamless as possible.
Not sure what types of things to eliminate from your current kitchen space? Consider keeping sentimental or seasonal items out of the way until you want or need them again. This may include items you intend to use again later or pass down to your kids (but don't need consuming space in your kitchen right now), such as:
Food storage containers
Mixing bowls
Old pots, pans, and cooking sheets
Vases
Appliances that can be packed into boxes (blenders, mixers, etc.)
Extra wine glasses
Extra dishcloths and towels
Special or extra utensils and tools
Serving dishes and containers only used during holidays or special events
Gather the Right Packing Materials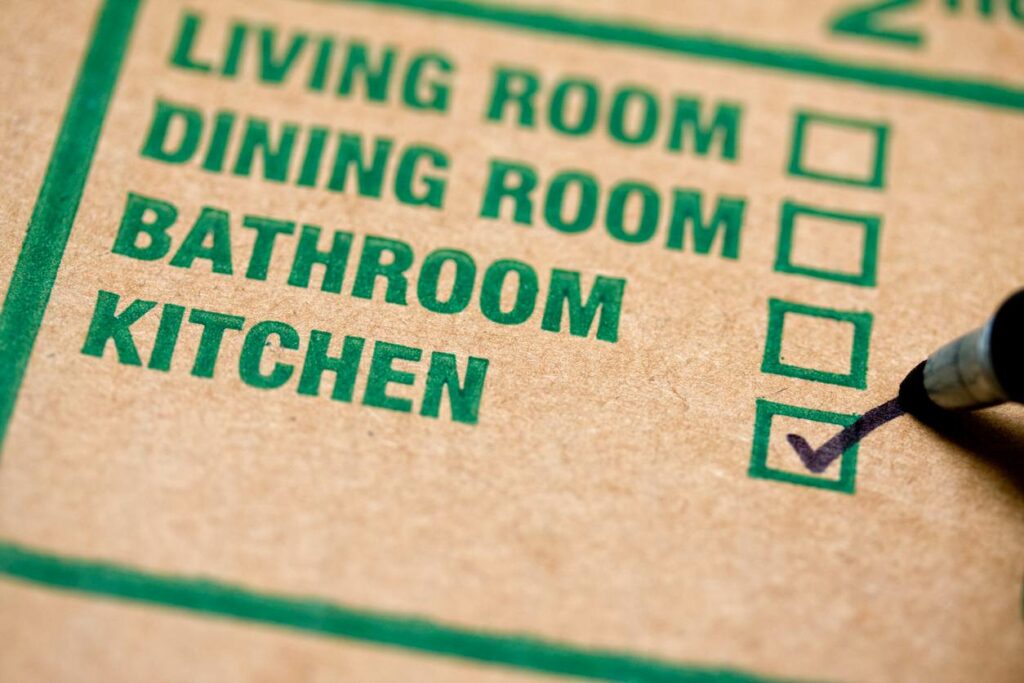 Packing items in your kitchen requires sturdy boxes of various sizes plus protective packing materials to avoid damage during storage. It's a good idea to pick up plenty of:
Plastic wrap
Packing paper
Packing peanuts
Packing tape to tightly seal boxes
Dividers designed to securely pack delicate dishware (like glasses with stems)
For your convenience, many storage facilities have packing and moving supplies for sale onsite so you can stop and pick up anything you need on your way to your unit!
Pack Everything Securely 
There is no one "correct" way to pack the contents of a kitchen. However, if you aren't confined by the time restraints of a move, you might as well take the time to do it carefully. The best method will depend on the types of items you're packing:
Appliances – Saving the original packaging for kitchen appliances comes in handy for times like this. However, if you don't have a box that's a perfect fit, don't sweat it. Smaller appliances are best placed in as small of boxes as they can fit into. Then, so they don't shift around in storage, use packing paper to secure appliances snugly into the box by filling in any gaps surrounding them.
Plates and bowls – Stack plates and bowls to keep them compact inside their boxes. Easily breakable dishes should be individually wrapped, but otherwise, separating each dish with a thin towel or piece of paper will suffice. Wrap stacks of dishes together with plastic, then fill any empty space in the box with padding of your choice.
Pots and pans – Stack pots and pans in your largest boxes with the largest ones on bottom, while making sure they're not too heavy to carry! Again, you may separate them with layers of packing paper and add padding in any empty space. Wrap glass lids with packing paper and place them toward the top or their own boxes.
Glasses – You may opt to use dividers specifically designed for storing glassware for added protection. Either way, be sure to wrap each glass item in packing material or extra dishcloths you might have. Whatever you do, do not stack any additional, heavier items on top of glasses, as this poses a high risk of shattering.
Utensils and silverware – It may be fastest to simply wrap your entire tray of utensils in plastic wrap and place it flat into a box. As long as they're not delicate, additional serving utensils can be placed into boxes loose on top of other items.
Kitchen Decluttering Made Easier with Advantage Storage
Minimizing clutter is essential to any kitchen organization project, meaning you may need to maximize your available space. However, your dream of a streamlined, organized kitchen doesn't have to be delayed any longer.
Free up room in your kitchen with the help of a self storage unit from Advantage Storage. Our storage facilities offer month-to-month leases on various unit types and sizes for household needs both big and small. We even sell boxes and packing supplies on site. We're here whenever you're ready to reclaim your space. Rent or reserve your storage unit online today!
More From Advantage Self Storage