Excalibur Self Storage
3359 TX-29 East
Burnet, TX 78611
512-715-8588
Office Hours
Monday – Friday: 9:00am – 6:00pm
Saturday: 9:00am – 5:00pm
Sunday: Closed
Access Hours
Monday – Sunday: 6:00am – 10:00pm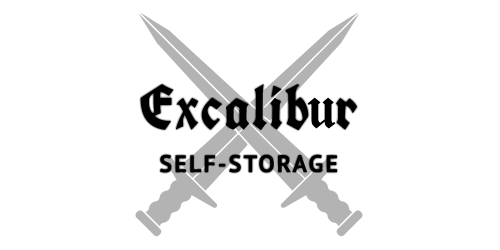 RV Storage, Boat Storage, and Warehouse For Rent in Burnet, TX, on TX-29 East
When you need more room in your castle, visit Excalibur Self-Storage in Burnet, TX. Our facility—conveniently located just off TX-29—sits just minutes from downtown Burnet. This accessible self-storage center provides units in various sizes ranging from small storage units all the way up to 15×30 medium-sized units built for whole-home storage. We're also proud to offer a variety of facility features to create a great storage experience including climate controlled storage units, drive-up storage units, covered parking, and enclosed vehicle storage.
To find our facility, head east from Burnet until you pass High Chaparral RV Park. If you're coming from Bertram, we're on the left side of the road right next to the Metal Mart.
Find Storage That Fits Your Needs in Burnet
At Excalibur Self-Storage, we're proud to offer plenty of amenities and features no matter what kind of items you plan on storing. If you're in need of business storage for inventory, shipping supplies, or equipment, we have you covered. When you need additional space to help cut down on clutter in your home, we've got room to share. All storage units are available with month-to-month leases for maximum flexibility.
Furniture Storage near Bertram
Planning to store heavy boxes or large pieces of furniture? Our drive-up storage units are a great fit when you're looking for furniture storage in Burnet. Pull right up to your storage unit and load or unload as necessary. Our wide aisles make backing up to your unit's door a breeze. Furniture storage is helpful when preparing for a move, renovating your home, or refreshing your space. Find a storage unit to meet your needs when you rent drive-up storage at Excalibur Self Storage. Easily get in, get out, and be on your way.
Climate Controlled Storage Near Burnet
Storing items that could suffer from exposure to the extreme Texas heat? Our climate-controlled storage units are built just for this occasion. Protect your temperature-sensitive items—such as photographs, electronics, antiques, and more—from high temperatures with a climate-controlled storage unit in Burnet, TX.
Vehicle Storage Near Bertram
Self-storage isn't just for boxes and furniture. If you're the owner of a boat or RV, storing it in your driveway or garage can take up quite a bit of space. Choose Excalibur Self-Storage for RV and boat storage solutions in Burnet, TX. We have spaces to accommodate a wide range of vehicles.
RV, Car, Trailer Storage in Burnet
With options for covered vehicle parking and enclosed storage spaces, you'll enjoy peace of mind while storing your car, trailer, or RV at our facility. Select an enclosed unit for dedicated electric access and a space up to 14' x 45'. Our vehicle storage solutions are great for clearing up space in your garage or driveway. Store anything from a motorcycle to a fleet of work trucks to the family RV. No matter where your next trip takes you, Excalibur Self-Storage provides a convenient and affordable place to bring your vehicle home to.
Boat Storage in Burnet by Lake Buchanan
If you're a boat owner in Burnet, you know the additional adventures that come with being able to hit the open water. However, you also know the responsibility of finding a safe place to store it when you're not out and about. When you're in need of boat storage in Burnet, Excalibur Self-Storage has you covered. Our convenient location makes it easy to stop by, pick up your boat and be on your way to Buchanan Lake, Belton Lake, Lake Travis, and beyond. Contact our knowledgeable storage staff to learn more about available boat storage in Burnet, TX.
Discover Great Storage Deals with Excalibur Self Storage in the Burnet, TX, Area
At Excalibur Self-Storage we make it a priority to bring you convenient storage solutions at a price that works for you. Our facility features units available in a variety of sizes to meet your needs both big or small. When you rent online, you'll also benefit from exclusive pricing and discounts. Only need storage for a couple of months? We have you covered with month-to-month leases so you can rent for exactly the amount of time you need without being locked into a long-term lease.
Rent Self Storage with Excalibur Self Storage in Burnet, TX Today
Whether it's your business or home that dictates your storage needs, Excalibur Self-Storage in Burnet, TX, can help. If you need more space in your "castle" for overflowing inventory, closet clutter, or any other reason, visit our facility on TX-29 E today. Have questions about the self storage process? Explore answers to FAQs, explore our storage blog, or give us a call during office hours. Stop by our facility or rent or reserve a unit online today!
FAQs About Storage in Burnet, TX
How do I rent a storage unit in Burnet, TX? 
Renting a storage unit at Excalibur Self Storage is easy! Stop by our facility during office hours to connect with our storage experts, tour our facility, and rent a unit. You can also rent or reserve a storage unit online from the comfort of your own home. 
What size storage units are available in Burnet, TX?
Our storage units range from small 5' x 5' spaces that are perfect for holding just a few boxes of seasonal décor, documents, or clothing to extra large 15' x 30' units that can hold furniture, appliances, and equipment during a move or home remodel. Not sure what size works best for you? Our size guide provides a look into common storage unit sizes and what is recommended to store in each. Our storage tips can help you prepare for your move-in.
Do you offer climate-controlled storage in Burnet, TX?
We do! These spaces are kept at a steady range of temperatures year round to protect your items against temperature-related damage including warping, cracking and melting. We recommend climate-controlled storage units for delicate items including leather, wooden furniture, musical instruments, vinyl records, and electronics. 
*Reserved units will be held for a maximum of 7 days. Promotions are subject to availability and limited to new customers only – space transfers and additional rentals excluded. Other restrictions, taxes, fees and insurance requirements may apply. All unit sizes are approximate. Contact store manager for more information.